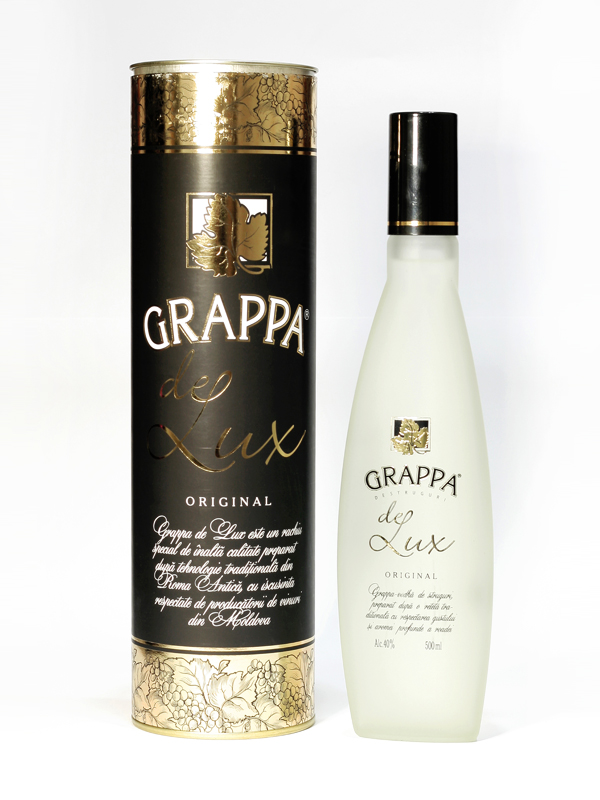 Colour
Grappa de Lux passes through the classical cleaning in order to get a crystal clear snow shade.
Flavour
Flowering almond trees and vanilla alternating with half-tones of ripening peaches.
Taste
Harmonious, soft, refined, with a long nutty aftertaste, thin aroma of forest berries.
Professionals of Moldavskii Standard House make GRAPPA deluxe of white fresh grape varieties.
Gastronomic combinations
We recommend you to try GRAPPA deluxe as an independent digestive in grappaglas glasses. Also it is advised to make Italian coffee with grappa. It is prepared from espresso with grappa and outside Italy it is known as "Espresso Corretto". In the North of Italy, people like to drink corretto with grappa for breakfast.
Characteristics
| | |
| --- | --- |
| To be served | 4-6°C |
| Alcohol by volume | 40% |
| Volume | 500 ml |
| Quantity in package | 20 |
| Grape variety | Made of white fresh grape varieties. The taste is harmonious, soft, refined, with a long nutty aftertaste with subtle tones of forest berries. |
| Energy | 174 Kcal |
| Shelf life | 2 years after the bottling date. |
Production
All our products in one list