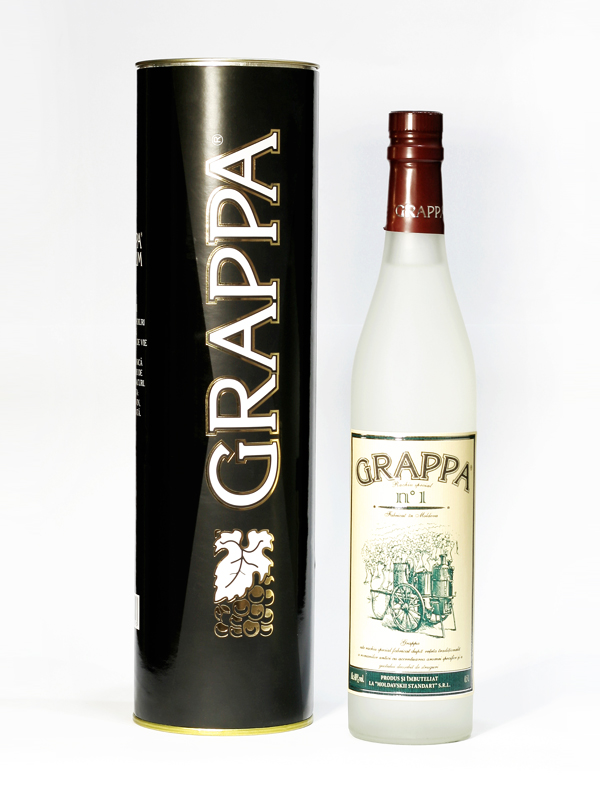 Colour
Grappa No.1 passes through the classical cleaning in order to get a crystal clear snow shade.
Flavour
It has a noble flower-fruit tone.
Taste
Slightly burning, rounded, finished, turning into an aftertaste with the aroma of sweet black currant.
Professionals of Moldovaskii Standard House make Grappa No.1 of fresh extracts of one of the best white Sauvignon grapes.
Gastronomic combinations
We recommend you to try grappa with traditional Bulgarian pastry and use a tulip-shaped glass with long stem.
Characteristics
| | |
| --- | --- |
| To be served | 4-6°C |
| Alcohol by volume | 40% |
| Volume | 500 ml |
| Quantity in package | 20 |
| Grape variety | made of a young wine distillate of grape varieties Sauvignon. It has noble flower-fruit tones. The taste is slightly burning, rounded with a characteristically stable aroma of black currant. |
| Energy | 174 Kcal |
| Shelf life | 2 years after the bottling date. |
Production
All our products in one list