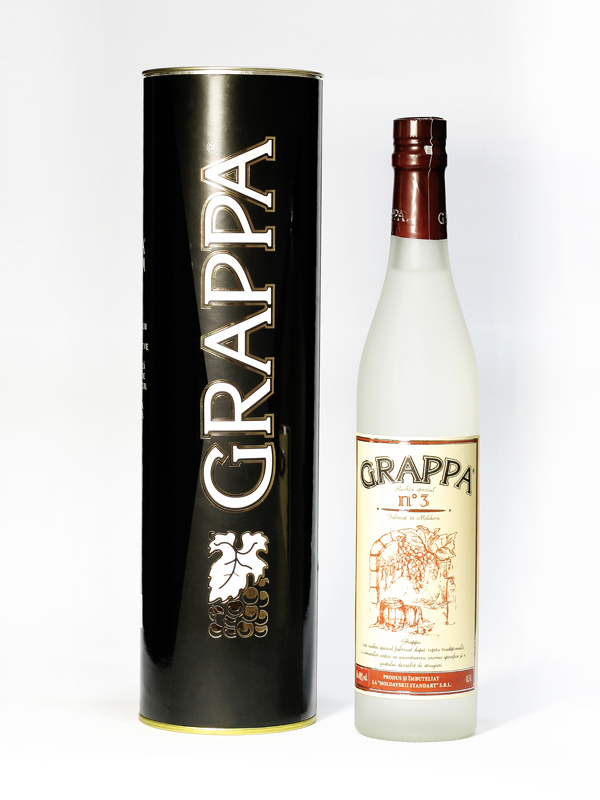 Colour
Grappa No.3 passes through the classical cleaning in order to get a crystal clear snow shade.
Flavour
the Pino-gris refreshing flavor with a thin note of fresh apple, with vibrant notes of candied strawberries.
Taste
Full, soft, balanced, with strong notes of candied strawberries.
Professionals of Moldavskii Standard House is made of freshly squeezed Pinot gris European white grapes.
Gastronomic combinations
Before drinking, we recommend that you leave the drink in a glass and let it "breathe" and then the grappa will delight you with a delicate apple flavor.
We recommend you to try Grappa No.3 with a classic coffee dessert.
Characteristics
| | |
| --- | --- |
| To be served | 4-6°C |
| Alcohol by volume | 40% |
| Volume | 500 ml |
| Quantity in package | 20 |
| Grape variety |  made of a young wine distillate of Pinot grapes. It has noble flower-fruit tones. The taste is full, soft, harmonious with a delicate strawberry flavor. |
| Energy | 174 Kcal |
| Shelf life | 2 years after the bottling date. |
Production
All our products in one list